Our week has been a little off-kilter.  Perhaps it's the weather.  The kids had no school on Monday due to icy roads, and today we're off to the park because it's 70 degrees and beautiful outside.  Gotta love Texas temperature changes.  Staying in on Monday, though, meant more sewing time.  I'm one seam away from a completed quilt top on the fireball quilt, yippee!  And I've started on a new project.
The pattern has been rattling around my head for several years, just waiting for the ideal fabric.  Moda has some awesome Christmas lines coming out this summer, so the quilt jumped to the top of my priority list. Before I start stitching Christmas colors, though, I wanted to make a rough draft, a chance to work through all the blocks and measurements and pressing possibilities before cutting into brand-new fabric.  Here's a sneak peak of how far I've gotten:
I "shopped my stash" for fabrics, and really had fun coming up with a color scheme that worked from the limited choices. I think it will be a good alternate color scheme to show alongside the Christmasy fabrics for the cover quilt. The purples and sage-y teals are a calming break from the wild fireball colors of last week.  I'm excited to see how this one plays out.
Next week is Spring Break for my kiddos, so I don't know how much progress I'll make in the studio.  I am, however, wrapping up two new patterns that will hopefully be available in the next couple of weeks.
Linking up with Fort Worth Fabric Studio.  I love the coral/turquoise fabric bundle they're featuring this week!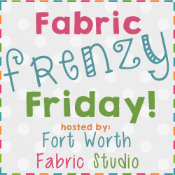 Happy Stitching!